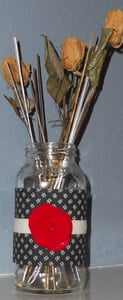 $

8.00 - On Sale
Pure Americana is a multi-use glass jar able to serve a couple of different functions. This jar can be a part of your décor by holding freshly cut flowers or store various items while still looking stylish.
The navy and ivory background consists of 2 strips of ribbon and 1 strip of felt. The navy ribbon displays tiny ivory bundles of leaves. The red felt rose with a matching red bead helps contrast the navy and ivory. This jar is the perfect way to show your American pride all year round.
Don't miss you chance to decorate your home with this beautiful jar.